Ah, the annual yearbook tradition. (Why do they even do those anymore?) We remember how cringey it was to pass that heavy tome of bad studio pictures around the cafeteria lunch tables and hope against hope that your crush would write something – anything – that you could look back on for years to come. Alas, not all students amass insane amounts of "Stay cool!" comments in their yearbooks. But Paul Rudd is proving that quality is more important than quantity with a recent yearbook-related heroic act for a young man in Colorado.
Brody Ridder is a 12-year-old student who came home from school with a mere four signatures in his yearbook – and two of them were from teachers. (Cue sad trombone.) His yearbook was so empty, Ridder wrote himself a note: "Hope you make some more friends."
His mom Cassandra noticed this (of course she did) and took to social media to share a message with other parents on a Facebook page for the school. (Mom!)
"My poor son," she wrote. "Doesn't seem like it's getting any better. 2 teachers and a total of 2 students wrote in his yearbook. Despite Brody asking all kinds of kids to sign it. So Brody took it upon himself to write to himself. My heart is shattered Teach your kids kindness."
She also posted about the ordeal on her personal Facebook, and soon the post went viral. (Again: Mom!)
Somehow, Ant-Man himself, Paul Rudd, saw the post and decided to send Brody a handwritten note.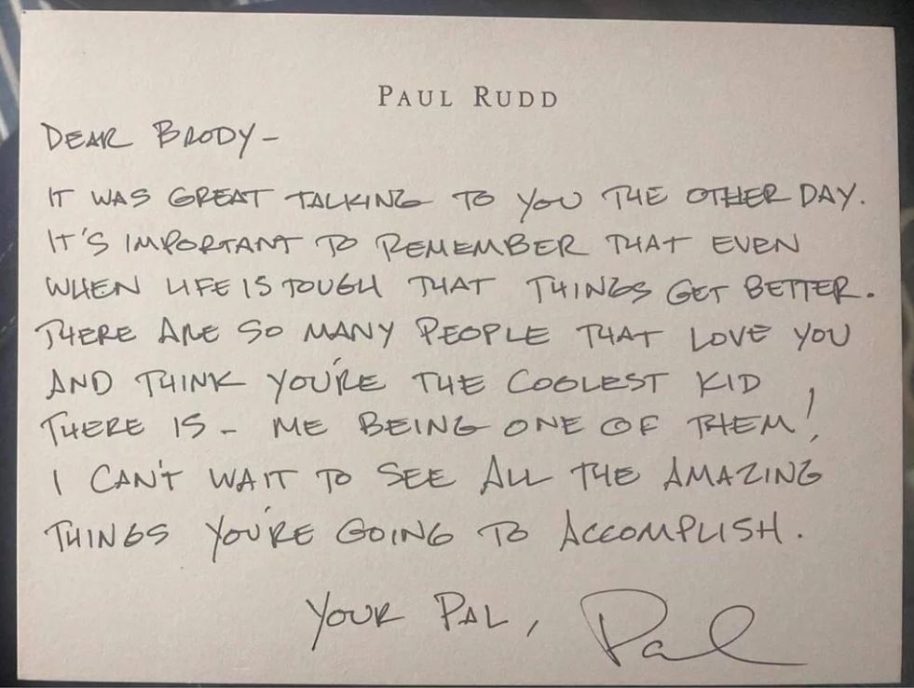 Photo: Cassandra Ridder (via NPR)
"It's important to remember that even when life gets tough that things get better. There are so many people that love you and think you are the coolest kid there is — me being one of them!" wrote the Avengers: Endgame star.
He also sent Brody a signed Ant-Man helmet! "To my good friend Brody for when he takes over the world!" the inscription reads.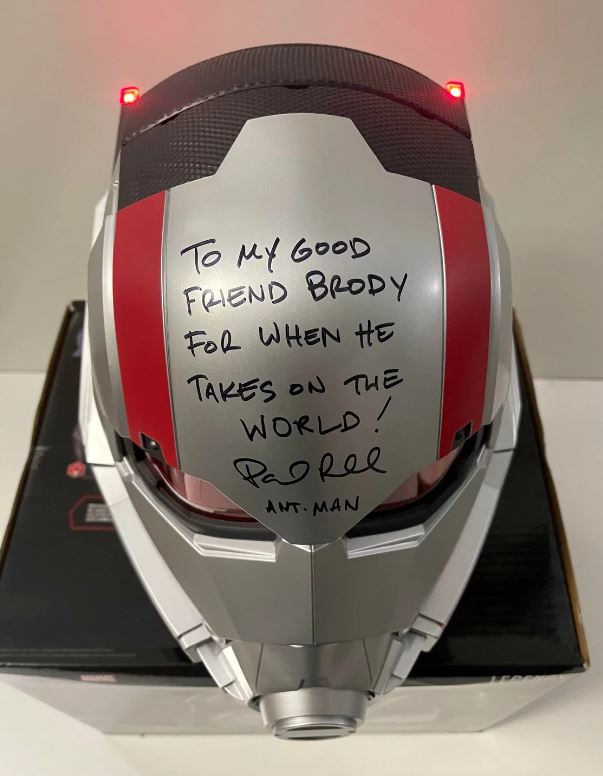 Photo: Cassandra Ridder
Brody has apparently encased the helmet in some kind of case to preserve and display it. (As you do.)
Of course, once word got around at school about this, everyone wanted to be Brody's friend. He now has more than one awkward picture of himself surrounded by fellow students making embarrassing hand gestures and half-heartedly smiling. Aww.
"He is just over the moon," Cassandra told NPR. "He is so excited. He feels hopeful for next year. He's excited to try to put himself out there to make more friends."
Now if only Brody's mom could stop posting about him on Facebook, he'll be able to stay cool.
Cover Photo: Marvel
News 7 1 22
Travis Barker Hospitalized for Pancreatitis Following Colonoscopy (A Camera Crew Can't Be Far Behind)

Read more here.

Photo: Getty Images

Chris Pratt Claims He 'Cried' About Instagram Backlash (Welcome to Social Media, Buddy)

Read more here.

Photo: Getty Images

Shaq Buying Dinner For a Whole Restaurant Proves His Generosity Is Even Bigger Than His Stature

Read more here.

Photo: Getty Images

Female Wrestling Star Britt Baker Has an Unusual Side-Hustle

Read more here.

Photo: Getty Images

Duffer Brothers Tease Potential 'Stranger Things' Spinoff (If They Don't Kill Off Your Favorite Character First)

Read more here.

Photo: Netflix

The Funniest 'Stranger Things' Season 4 Memes Only Hardcore Fans Will Understand

Read more here.

Photo: Twitter

Superhero Movie Posters That Used the Exact Same 'Floating Head' Design Template (Way to Be Original, Hollywood)

Read more here.

Photo: Marvel

10 Bingeable TV Shows Streaming This Summer That'll Get You Through the Next Heat Wave

Read more here.

Photo: Disney+

TikTok's Tortilla Challenge Is the Dumbest Thing You Have to Try

Read more here.

Photo: TikTok

Sesame Street's Elmo Gets COVID-19 Vaccine (And Anti-Vaxxers Are Throwing a Tantrum on Twitter)

Read more here.

Photo: Sesame Street Workshop